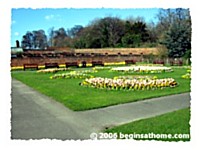 I am spending Easter with Mich's family at their home in Wakefield, a city near Leeds. My intention had been to walk around with my camera, taking photographs of every bit of nature. This did not work out. This weekend has seen some superb weather and true to the saying, mad dogs and English(wo)men were out in the noontime sun. I don't worry too much about mad men or women…it's their dogs that scare me.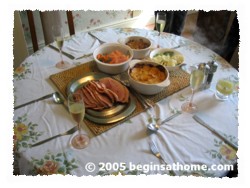 The top left picture is of the botanical gardens in Thorne's Park. It's no Kew Gardens but it is very beautiful. Almost immediately after I had taken the photo, I spotted three dogs, all without leashes. I fled the park and opted for the safety of moving traffic.
Unable to capture Wakefield in the spring, I opted for pictures that summed up the holiday. Sunday lunch at the Mackay's is a big deal. Mich's mum is an excellent cook and she goes to great lengths to make sure that everyone's plate is full.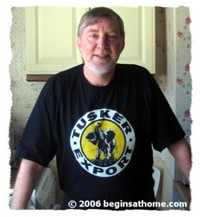 No photograph can really do justice to her cooking but hopefully the second photograh gives some indication of how good the food is. I should also add that all that food there, that was just the main course!
Lastly, is a picture of Mr Mackay. We got him this Tusker t-shirt when Mich first visited Kenya in 1998. It made me happy to see him wearing it.
That's it, my Wakefield experience, good food, good booze, good weather and good company!
As an aside, Mich's mother's maiden name is Easter. Had we spent it with her side of the family this post would have been called "Easter at the Easters"