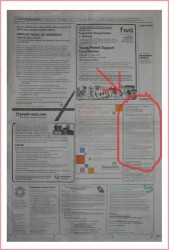 After several failed attempts at drafting some witty commentary to accompany the images in this post I have opted to stick to the facts and simply recount how I happened across these images.
It was a Wednesday morning, no different from any other. As usual I bought my copy of The Guardian at Lancaster train station. I boarded the train and began my Wednesday morning ritual. I always start with G2, the Guardian supplement, reading from the back to the front. About a month prior to this particular Wednesday, the Wednesday Guardian acquired a level of importance that had previously been reserved for Tim Dowling articles. The change in hierarchy was brought on by my 108 Miles frustration; the Wednesday Guardian with its 40 something pages of job vacancies provided an end to this tiresome journey.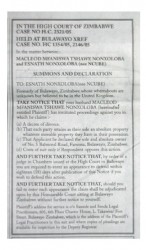 With approximately two hours travel time I was able to identify those jobs I was going to apply for, those I wished I could apply for and those that I thanked God I would never have to consider as a possible career option. In short, I could comfortably read each and every vacancy posted in the Guardian before I reached my destination.
An example of a vacany page can be seen by clicking on the first image in this post. This is page 28 of the Society section and is dated Wednesday 22nd March 2006. At a quick glance it is clear that a few large national public/charity sector organisations are looking to appoint trustees and a chair. All this makes sense, the Guardian afterall is a national paper read by ( I guess) a few (hundred?) thousand people.
What does not make sense is the advert that I have circled in red; this advert is better viewed by clicking on the second image in this post. Actually, the advert itself makes perfect sense. What I don't understand is why the author/placer of the advert, a Mr Macleod Mfaniswa Tshawe Nonxoloba of Bulwayo, Zimbabwe, opted to use this particular medium for his advert.
Granted the section also allows for Notices but this is a Divorce Summons!
I notice that the wife (or ex-wife) had 18 days to respond. I sincerely hope that Mrs Esnath Nonxoloba (nee Ncube), "whose whereabout are unknown but believed to be in the United Kingdom" has done so. If not, then she is now
divorced
the sole owner of whatever moveable property she has in her possession
no longer owner of No. 5 Balmoral Road, Famona, Bulawayo (Hubby owns it all)
hmmm…Pole Mama! (for a translation see this post)