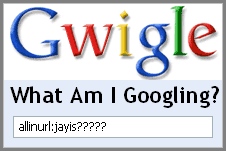 JonB, in his capacity as one of the reviewers at JayIsGames, which in my view is one of the best gaming blogs in the blogsphere (Lazylaces comes a close second) has introduced me to the wonderful world of Gwigle.
Though I class myself as a casual gamer I am not very good at reviewing games so below is a snippet of the review:
[It]…teaches you Google search tricks as you play. Each screen shows a few search results along with the search string at the top. One word is replaced with question marks; it's your job to fill it in. It's hands-on education that feels more like you're playing a game than learning useful knowledge.
The full review can be found here.
I have successfully managed to play the game up to level 1.9 and I can vouch for the 'hands on education.'
Go on…have a Gwigle and if you get stuck the comments section over at JayIsGames contains lots of hints and a walkthrough.
—
*Image from JayIsGames