On June 1st 2006 Kenyans everywhere will be celebrating Madaraka Day. Madaraka Day commemorates the day that Kenya attained internal self-rule following an important milestone on the road to independence. To mark this event I have joined my fellow Kenyan Blog Webring (KBW) members as we blog in unison under the banner 'Kenyan Bloggers' Day'.
—————————————-
While working on the first part of my Kenyan Bloggers' Day contribution I came across Doodle 4 Google: my Britain.
[This is] a nationwide design competition open to the UK's 10 million school children. Young people are being invited to design a Google doodle explaining what it means to be British today. The winning doodle, which will be displayed on the Google UK homepage for 24 hours, will be seen by around 18 million people.
Doodle for Google began in 2005 and the winner of last year's competition was 11 year old London student, Lisa Wainaina (pictured below with Dennis Hwang and her wining doodle)

She designed a doodle titled 'Day of the child'. Lisa's creative theme and clever incorporation of childhood images into the Google logo contributed to her being named the winner of the London competition. Lisa's doodle was hosted on the Google homepage for 24 hours for millions of people to see, including her very proud parents and schoolmates.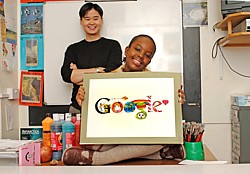 As I read the 2005 Winner's name, I felt in me an emotion similar to (but stronger than) the feeling I get when I first notice a stranger wearing a Kenyan T-shirt or carrying a kiondo. It matters not that I do not know the person, or they may not be Kenyan. All I see is a person carrying an aspect of my identity and often they do so with such pride that it makes me want to stop them and say,
"Because you chose to wear/carry X, every person you meet will be exposed to a part of my culture and identity. They will admire the beautiful X you wear/carry. They may even want to find out more. In short you are representing and for that I am grateful'
I have never had the courage to say all the above to a total stranger. Sometimes I wish I did have that courage. Especially since these happy thoughts are often eroded cynicism.
I begin to question the carrier's/wearer's identity,
'hmmm….I bet he/she is not even Kenyan'.

I speculate on their motives,
'hmm…I bet they wore X, carried X because the "Ethnic" look is in.'

I conclude that the stranger pronounces Kenya as Kee.ni.a, they have only visited Kenya once on a 10 day package holiday/safari. Based on this I convince myself that the stranger has no to right to lay claim to my heritage. It may be days later before I remember how upset I get when others attempt to redefine my identity and the ways I choose to display it.
Nobody has the right to decide the cultural signifiers that others may use to define their identity and I certainly do not have the right to define another persons' cultural/national identity.
With this in mind I approach the issue of Ms Wainaina and her outstanding achievement with a certain degree of caution.
I do not know Ms Wainaina and the articles that document her win make no reference to her national identity. I do know however that Wainaina is a Kenyan name.
Actually, that is all I need to know.

Through her name, Ms Wainaina carries an aspect of my cultural/national identity. Through her success she has exposed an aspect of my identity to millions of people. People all around the world will admire her work and will congratulate her on her win. They may even ask about her name. In short she is representing. And for this I am grateful.
As I think of Lisa Wainaina and her online achievements I am reminded of something the Acrobat said in his Kenyan Bloggers' Day post.
Kenya was not a house we moved into, it was a house which they started building, which we will complete and which our children will furnish. In that sense we mould it in our character. It is a reflection of us. The good and the bad. But it is us.
While his remarks are in reference to the building of a nation, I feel it can also be applied to the building of a nation's online identity.
A short while back, it was almost impossible to find news, opinions, gossip, facts and stories on Kenya written by Kenyans/friends of Kenya. In the recent months, through the proliferation of Kenyan/Kenyan friendly blogs we have started to shape Kenya's presence on the net.
The Kenyan Blogsphere was not a house we moved into, it is a house which we are still building, the Lisa Wainana's are already working on the interior design and by the time her children move in they will be adding loft conversions for our ever growing family.
In this sense, through our blogs, we are moulding the Kenyan Blogsphere and in turn Kenya's identity on the internet. It is a reflection of us. The good and the bad, but it is us.
And damn! Am I proud of us!
Happy Madaraka Day
——————–
Lisa Wainana image from Doodle 4 Google's publicity page.