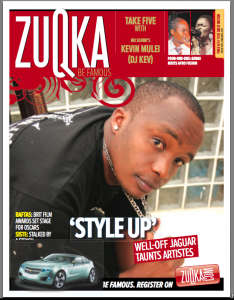 Sometimes, you can just hop in the back of someone's cab and tell them what they're supposed to do. Other times, you have to let him look out at the ocean for a while.
Zuqka's feature on MamaJunkYard is the literal equivalent of hopping into my cab and telling me I need to get back to blogging. This is what Kamau Mutunga wrote:
Her relationship status is "not on the market." Unless you're Thierry Henry. She likes Tia Maria, coffee, purple, travel, family and God, though not necessarily in that order. She hates balloons, pumpkins and prejudices. Her interests are race, gender, sexuality and critical legal theories. Her first pets were rabbits, and she has two tattoos and six body piercings. Bloggers rarely describe themselves with much detail, but there you have a bio peek at Kui, Mrs Cooper or to her blog fans, Mama Junk Yard.

Indeed, Mama Junk Yard's rants about anything under and over the sun. Kui has lived abroad, but works in Nigeria. From how foreigners talk and silly questions about one's country. So, her entries are observations of a footloose, uprooted Kenyan. You will learn that "Kubwa" might be Kiswahili for "big" and "Nyanya" is grandmother, but why does it also mean tomato? Well those two are names of places in Naija too. And "well done" doesn't connote congratulations. It is a greeting. When feeling unwell don't be shocked when asked "how you body de?" "How far" is not about distance, but "how is it going." And when someone flashes your phone, don't call back. They were "just de greet you O!" Mrs Cooper hasn't been blogging actively, and her archives might give a better impression of Mama JunkYard.
There are few things there that need updating, e.g. I am no longer in Nigeria….but that's even more reason for me to get back to blogging!