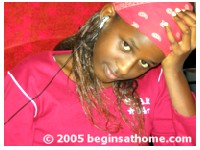 The Drama Queen, aka my youngest sister turns fourteen (14) today. This is a picture I took of her last year. I was deliberating whether or not to add a photo of DQ4Lyf (Drama Queen For Life, as she sometimes calls herself) but I remembered that this is the same girl who has appeared on the front cover of the East African Standard and in various segments of the Daily Nation, so I may as well extend her 15 minutes of fame.

She is a very beautiful girl. I would go so far as to say the most beautiful girl in the family but these sort of statements are known to cause wars. I am blessed to have her as a sister. She may only be 14, but she possesses incredible strength and wisdom.
I remember when she was about three or four years old. My cousins had just lost their mother and my mum and dad, on account of her age, decided not to discuss the subject in the presence of the Drama Queen. On our way to visit my cousins, the drama queen called me to one side and whispered,
Do you know Cousin X's mum is dead? But you shouldn't say anything to them about this because it will make them sad.
Actually, all the above was said in Kiswahili, because despite having been born and raised in England, the Drama Queen did not speak English until she started school. I wasn't surprised that the Drama Queen knew there was a death in the family; our family are not the best keepers of secrets. What amazed me though was her understanding of death.
Like all intelligent people, the Drama Queen has a whacky side.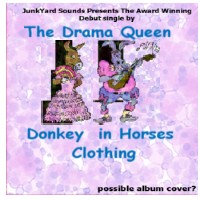 As a self titled singer-songwriter-guitar player, the Drama Queen, who cites Phoebe (the Friend's character) as her musical inspiration, does a decent rendition of Smelly Cat. Her true talent however can only be appreciated by witnessing a live performance of her very own composition; Donkey in Horses Clothing; a song she wrote at the age of ten.
Like all her music, this song is accompanied by her signature "strum like a nutter" guitar playing. In the absence of a recording of this masterpiece, I offer the lyrics to the first few lines:
You are donkey in horses clothing,
You need a brain for that small small head
Thought I would fall for your tricks
But I'd rather have you loving me dead
At this juncture, the guitar doubles up as a drum and each note is punctuated by a sharp slap of the guitar. I am not sure what genre of music the song fits into but if I were to place it anywhere it would be in the teen rock category (Busted, Avril Lavigne) with a touch of Phoebe.
Even this whole birthday thing is not without its own Drama Queen madness.
A few days after the New Year, the Drama Queen sent an email to the entire family marked VERY Important! in which she informed us that;
I have decided to "adopt" a birthday…I have decided to have not one but TWO birthdays. The first will be (of course) April 17th and the second? I have no idea. (Any suggestions?)
Please note the new change in procedure and do not forget PRESENTS (money?).
AUNTIES YOU KNOW THE DRILL.
This was followed by a later email;
So after thought and consideration I have finally chosen a birthday…it has to be August, and because 3 is my favourite number… my adopted birthday will be the 3rd of August.
So don't forget people. Birthday 1=April 17th, Birthday 2=August 3rd.
Well, the Queen of England does have two birthdays, as does my dad (a long story!) so who are we to deny the Drama Queen the right to celebrate her birth twice eh?
The tales of her whackyness are endless and I could be here a long time but I shall only share one more.
This is from a while back, she was probably five years old and we were repainting the house. Being asthmatic, the Drama Queen was not allowed to be in the house while we painted so my mum sent her to spend the weekend with my aunty, Mama Crumbs (that is not her real name). When she returned on the Sunday night, we still had one more room to do and the Drama Queen was eager to help out. Of course mum would not let her and after fifteen minutes of futile pleading, begging and battering, in true Drama Queen style, she stomped off to her room, slamming the door behind her.
For another half hour or so we heard nothing from her. We had, by this time, finished the painting and were sat in the living room. Shortly after the living room door was flung open and in marched the Drama Queen. Occupying centre stage, with defiance in her eyes and resolution in her voice, she announced;
I know why you won't let me paint. It is because I am black!
Not waiting for a response, she marched back out.
So, until August 3rd 2006, I wish my baby sister a happy birthday. Drama Queen, I love you and I miss not being able to spend your birthday with you. Continue to be the beautiful, intelligent, wise, whacky and loving sister that you are.