You've got to wonder what sort of somersaults the Mentalist's brain was performing as he addressed this envelope.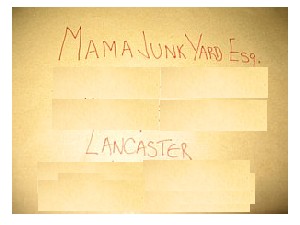 What of our postman, who for years has always known me as Ms. W Kihoro? I am almost certain that as he shoved the A4 envelope through the letterbox he muttered to himself, 'There goes the neighbourhood!' How will I ever face him again?
But hey, the loss of social standing in the real world is nothing when compared to what I have gained as a result of being the second recipient of Guess' Mailbox Meme.
Taking into account the choice of card, armed with handwriting analysis and knowledge of her deepest darkest secret I can tell you exactly what the child she was thinks of the adult she has become.
As for my dear friend, we have called you Godfather in jest but the use of bold red ink, lower case mixed wItH UppEr case and the contents of that secret leave me no choice but to hail you as the one true Don and say Omerta!
Noting that Guess wrote in black and The Don wrote in red I have opted to share my secret in Green and to give the card a little flavour of Bendera Yetu Ya Kenya (trans. our flag of Kenya).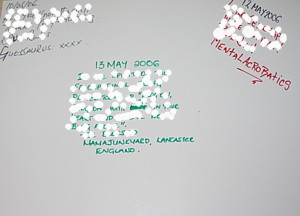 A cautionary message to whosoever receives this card, it contains information that many would kill to possess and many more would kill to protect. Dan Brown and his Code ain't got nothing on this. Are you brave enough to take part in the KBW Kwess Konspiracy? (Ngai..ati KKK!!)
oh…and Mr Acrobat – didn't you receive Nick's memo? It is Sir MJY to you….Next time Sema Afande!
———
Background info: