The Young Foundation is inviting people to share their first political memory. The First Political Memory Project aims to:
reconnect people's everyday lives with politics through collecting and sharing stories of when people first became aware of the bigger world around them.
I grew up in a very political household so trying to identify my first memory is complicated. When I look back to my "politically formative years", which I place somewhere between the ages of 4 and 7 all I see is a kaleidoscope of memories.
Is my first political memory to be found in the pages of my book collection that included titles such as "Nelson Mandela for Kids", "Harriet Tubman for Kids"?
Or did it start with the curtain call that preceeded my role in the Wazelendo Players' production of Ngugi Wa Thiongo's The Trial of Dedan Kimathi?
Perhaps it is in the tune of Bandiera Rossa; a song I learned to sing without so much as knowing what language it was in!
Maybe it lies within the pixels that made up the was the framed poster of Malcolm X in our living room?.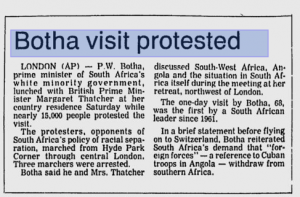 In many ways it is a lot easier for me to single out those political memories that have shaped my views on inequality, discrimination and race. The memory I have submitted to the First Political Memory Project took place in 1984, during P. W Botha's visit to the United Kingdom. My parents and I joined the protesters who marched to Downing Street.
I was about six years old at the time and I was used to going on both leisure and protest walks with my parents, which often ended with me eating an Orange ice lolly (if the weather was nice) or a pack of Opal Fruits and/or Jaffa Cakes. For the most part there was nothing special about this particular walk until we got to Number 10. The crowed stopped and in unison began a call and response chant that went like this:
Caller: Maggie, Maggie, Maggie!!
Crowd: Out, out, out!
Caller: Botha, Botha, Botha!!
Crowd: Out, out, out!!
At the age of six, to be part of the 15,000 people who chanted in unison was an amazing experience. At the time I must admit that I thought we were calling for them to open the door and step outside. It was only as I grew older, as I started to learn more about Apartheid and Thatcherism, that I was able to connect the dots. It was this demonstration that helped me understand that Apartheid as an ideology and as a regime did not exist in isolation. In 2010, as the Conservative Party rolls out its "I've never voted Tory before" campaign, I can respond and say,
I've never voted Tory because they supported Apartheid
What is your first political memory? Get sharing!
—
With thanks Mark Pack for his LDV post – 'cos that's how I learned about this!