Quick Facts


Full country name: Belize
Area: 22,966 sq km
Population: 273,700
Capital City: Belmopan
Language: English, Spanish, Creole
Head of State: Governor General Sir Colville Young
GEOGRAPHY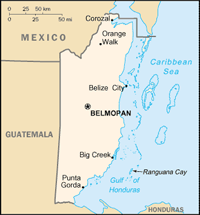 Belize lies on the eastern coast of Central America and shares a border with Mexico to the north and Guatemala to the east and south. The county is small with a total area of 22,966 sq km, its greatest length north-south is 280km and east-west 190km. The climate is subtropical, tempered by trade winds. Temperatures in coastal districts range from about 10°C to about 35°C. Inland the range is greater.
PEOPLE
Belize's population is estimated to be approximately 273,700. The population is a multi- racial mix of people from Central America, Asia, Europe and the Caribbean that reflects the country's history as a melting pot for people from all over the world.
A population census shows that the main ethnic groups: Mestizo, Creole, Ketchi, Yucatec and Mopan Mayas, Garifuna and East Indian represents a large percent of Belize's population. Other ethnic groups include German and Dutch, Chinese, Arabs and Africans.
English is the official language of Belize. However, English Creole is widely spoken and Spanish is commonly taught in primary and secondary schools in order to promote bi-lingualism.